4-Wheel Alignment $119.95
Schedule your service online to take advantage of these great benefits:
•    
Book appointments instantly
!
•    Receive special offers specifically for your vehicle.
•    Maintain an up-to-date record of your service history.
Why Should You Schedule Tire Service for Your Subaru?

Tires play a crucial role in the safety and performance of your vehicle, and it's tough on tires out there! Rough roads, extreme weather, and difficult driving conditions can all cause damage and extra wear on your tires, even if you don't realize it.
Checking the tire tread and inflation levels yourself is a good habit, but it's not a substitute for professional inspections. A trained technician can diagnose issues that a simple visual inspection might miss. Plus, tire service includes professional alignment and balancing, which are key to extending the life and performance of your tires.
At the Landers McClarty Subaru Tire Center in Huntsville, we provide the tire service you need to keep you riding smoothly, whether you're coming to us from Huntsville, Athens, Decatur, Florence, or Birmingham.
We can diagnose all types of issues, and if necessary, we can repair your tires or supply you with
new tires
at competitive prices. If you need new tires, we stock the reliable brands you know and trust, including Bridgestone, Goodyear, Michelin, Continental, and Dunlop.
To help maintain and extend the life of your tires, we provide a full range of tire maintenance services. These include:
•    Tire inspection and diagnosis
•    Tire balancing
•    Tire rotation
•    Wheel alignments
We offer extended hours to help you fit tire maintenance and service into your busy schedule, and we offer special deals to help fit them into your budget!
In addition to tire service, we also offer great deals on brake service. If your brakes have become less responsive or you suspect the pads have worn down, check out our brake specials here.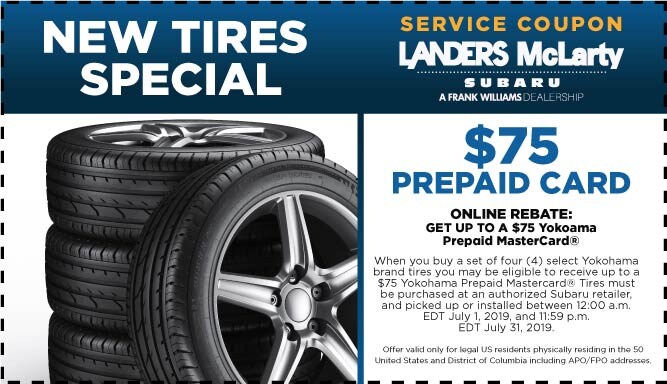 To receive the $75 Subaru Yokohama Prepaid Mastercard, you must submit (i) a signed official redemption form, and (ii) a legible copy of the invoice for the select qualifying Yokohama tires to the following address:
Subaru Yokohama Rewards
Attn: Brady Wynne
7015 Vorden Parkway
South Bend, Indiana 46628
The name on the redemption form and invoice must match. Your submission must be postmarked by August 20, 2019 and received by August 24, 2019. Submissions postmarked after August 20, 2019, or received after August 24, 2019 will not be accepted and are void. The estimated delivery date for the $75 Subaru Yokohama Prepaid Mastercard is October 2019.
Hours
Monday

7:30am - 5:30pm

Tuesday

7:30am - 5:30pm

Wednesday

7:30am - 5:30pm

Thursday

7:30am - 5:30pm

Friday

7:30am - 5:30pm

Saturday

8:00am - 2:00pm

Sunday

Closed
Directions
Get Directions