The 2021 Subaru Love Promise Customer and Community Commitment Award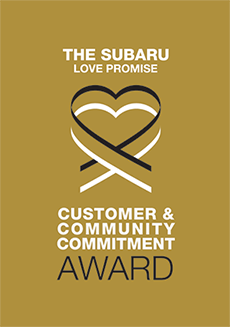 We've been nationally recognized for our dedication to our customers, our community, and the Subaru Love Promise.
We're honored to receive the 2021 Subaru Love Promise Customer and Community Commitment Award. This award nationally recognizes elite Subaru retailers who provide an exceptional customer experience at every interaction with Subaru. These retailers have also demonstrated an outstanding commitment to supporting passions and causes in their local communities in important areas such as the environment, community, health, education, and pets.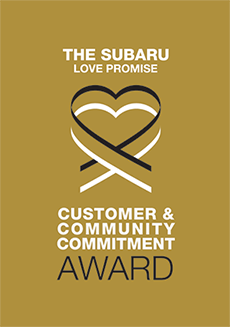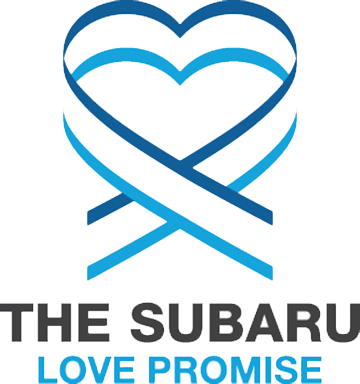 What is the Subaru Love Promise?
Subaru and our retailers believe in making the world a better place and the Subaru Love Promise is our vision of respecting all people. This is our commitment to show love and respect to our customers and to work to make a positive impact in the world.
How is Landers McLarty Subaru - Huntsville dedicated locally to the Love Promise?
How is Landers McLarty Subaru - Huntsville dedicated locally to the Love Promise? At Landers McLarty Subaru, we're dedicated to fulfilling a promise to love our community through a special program referred to as the Landers McLarty Subaru's Love Promise. Our various partnerships with local charities and nonprofit organizations reflect our commitment to keeping this promise. We are so very grateful for the opportunity, not only to be a part of our community but to serve in it as well. Our support takes the form of standing with local charities to facilitate donations, events, drives, all of which help shine a light on their organizations. We believe in being a positive force in the communities where we live and work, not just with donations, but with actions that set an example for others to follow. It is our goal to make our friends and neighbors aware that we are not just another car dealership but that we are a company that wants to establish a long-lasting partnership with the community.
Greater Huntsville Humane Society
Land Trust of North Alabama
Downtown Rescue Mission, Huntsville Police Department, National Children's Advocacy Center
Love Promise Stories from Landers McLarty Subaru - Huntsville
Subaru and Landers McLarty Subaru - Huntsville believe in making a positive impact on the communities in which we live and work. We uphold that belief through our Love Promise Community Commitment. Every month, we select inspiring stories from customers and partners from around our area who strive to support our collective commitment and feature them here
Subaru continues its dedication to the Environment - Melanie M
Landers McLarty Subaru funded the installation of two new dog waste stations at Land Trust of North Alabama nature preserves. The stations, located at trailheads where visitors begin their hike, offer bags and a waste basket so pet owners have everything they need to clean up after pets and keep trails clean for everyone. By providing helpful amenities for visitors, we create convenient and welcoming spaces for the community to experience all the benefits of nature, including four-legged friends. Keeping all trails free of animal waste ensure both our environment and our trail guests are kept safe from any contaminants that could be spread through animal waste.
---
Subaru supports youth sports - Bryan D
PALS (Partners for Athletes and Leaders in Schools) loves Landers McLarty Subaru and greatly appreciates their commitment to be the title sponsor of our inaugural golf tournament in September 2021! PALS is a local non-profit whose mission is to provide supplementary assistance to teams, organizations and students involved in Huntsville middle and high school sanctioned athletics and band. In our 11-year existence, we have been able to support 53 grant requests totaling nearly $100,000 in support of such programs like band, football, cheerleading, cross country, baseball, golf, softball, bowling, etc. in the city's school programs. These grants have reduced the burden of under-funded programs to purchase new uniforms, equipment, etc. Additionally, our grants have potentially lowered the fees associated with kids' participation in school band and athletics for families that might not otherwise be able to afford their children's participation. PALS' grants have impacted hundreds of student athletes and band participants and enhanced their experience in these programs. Our inaugural golf tournament netted a profit to PALS of nearly $12,000. This is more than twice our previous annual fundraiser and 100% of that will support our mission of kids' participation in band and athletics. Thank you, Landers McLarty Subaru, for your incredible generosity in supporting our inaugural event and giving back to the fine youth in our community!
---
Adopt a Classroom with Landers McClardy Subaru - Cheryl A
Martin Luther King, Jr. Elementary School Loves Landers McCLardy Subaru! I would like to personally THANK Landers McClardy Subaru for partnering with Adopt-a-Classroom and donating $3000 to our school. I received an email back in April of 2021 stating that MLK had been selected to receive this wonderful donation. Six teachers (ranging from Kindergarten to 5th grade) were selected to receive $500 each to purchase STEM items for their classrooms. They had 30 vendors that were available for them to "shop" and choose appropriate items for their individual grade level. Community partnership is extremely important. Having a strong connection with the community enhances economic growth. THANK YOU Landers McClardy Subaru for your partnership. We appreciate your generosity
---
Subaru cleans up 250lbs of litter! - David W
I want to personally thank Landers Mclarty Subaru for partnering with Operation Green Team to hold a cleanup event. We collected 63 bags of litter and approximately 250lbs of other debris with the help of your employees. During the cleanup we were also able to clear 3 storm water drains to help with water pollution, as well as possible flash flooding issues from drains being blocked with debris & litter. Subaru is an asset to the City of Huntsville. Not only does the company create jobs, offers great services & products but more importantly the company shows it CARES! Keeping Huntsville beautiful is the primary goal of Operation Green Team and without fine folks at Subaru we could not do so. Operation Green Team looks forward to working together with Landers McLarty for the betterment of our Community
---
Subaru helps to keep kids healthy all year long - Risha S
HEALS, Inc. non-profit organization in Huntsville, Alabama dedicated to providing accessible, quality, school-based, primary health care for children through collaborative efforts with the Huntsville City/Madison County school systems and the medical community. During these times of uncertainty, it is more crucial than ever that our services are available to the children of Huntsville City/Madison County to mitigate Emergency Room visits, treat chronic illness, and provide a safe and reliable place for their medical, dental, and optometry needs. Without partners like Landers McLarty Subaru, we would not have the ability to continue that mission. Landers McLarty Subaru is not only a champion for the community, they are part of the solution. Funding from Landers McLarty Subaru has helped us to continue to provide these services to children that need it the most. Throughout the last five years we administered over 3,500 vaccinations, provided over 5,000 medical visits, provided over 3,500 dental appointments, over 2,000 dental screenings, and over 500 optometry appointments - between all HEALS clinics. It is because of organizations like Landers McLarty Subaru that we can help children like "Katie" with severe asthma receive the medications she needs to survive. Unfortunately, our staff had to report Katie's mother to the Department of Human Resources because she was not caring for the child properly and not filling her medications. Our physician, Dr. McDuffee was able to obtain samples from another physician in town and give them to Katie. Without your support we would not have be able to help "Maurice", a fifth grader, was brought over from class for this exam, which includes hearing and vision screening. When Andrea, the nurse, began the vision screening it quickly became apparent that Maurice had a significant visual problem. Concentrating and cooperating as hard as he could Maurice could recognize no letters below the second line of the Snelling Chart! Andrea immediately phoned Maurice's mom who said that Maurice's grades had been getting worse and that he had complained of not being able to see well. She was surprised to learn that Medicaid would pay for vision exams and for glasses and eagerly asked for a referral to an optometrist that accepted Medicaid patients. When Andrea checked back with the mom later that day, she had already made an appointment for Maurice to receive the care he needed. She expressed her gratitude to Andrea and how happy she was that we were able to take care of Maurice without her having to take off from work. Without the convenient access to this routine screening, there's no way to know how long Maurice would have struggled in class because of a physical condition easily diagnosed and treated. With corrected vision, he's on the road to improving grades and being a successful learner. We sincerely thank Landers McLarty Subaru for their support which allows us to continue to provide the care that Katie and Maurice need, and the other thousands of kids just like them.
---
Years of Love, a commitment to the elderly - Jessica B
CASA of Madison County has benefited from the continued support of Landers McLarty Subaru since 2014 through generous contributions. Their commitment to caring for our aging and homebound neighbors in our community has made it possible to reach more than 2,500 individuals annually through our Aging in Place program. CASA's mission is to enable individuals to live at home independently, safely, and with dignity. Landers McLarty Subaru has partnered with CASA of Madison County to provide food sustainability through donation drives, provide freedom through accessibility wheelchair ramps at homes in our community, and support energy efficiency in the homes of our most vulnerable populations. Accessibility for our aging and homebound neighbors has been a top priority for CASA for more than 40 years. In the last few years, our aging population has been one of the fastest-growing populations; as a result, demand for our services continues to increase. CASA has met the needs of this population in part due to the community partnership with Landers McLarty Subaru. In 2014, CASA of Madison County received around eight requests for a wheelchair ramp per month. In more recent months, CASA has received 13 requests for wheelchair ramp installations. CASA has met these additional requests thanks to the support from our local businesses, like Landers McLarty Subaru.In 2019, Landers McLarty Subaru welcomed the community to experience the effort it takes to prepare for a wheelchair ramp build. The Service Department was able to provide an empty bay to allow individuals to participate or observe the process of building a wheelchair ramp. Afterward, local team members put their caring into action by helping trained volunteers to install the wheelchair ramp.Landers McLarty Subaru also knows the importance of energy efficiency and sustainability. CASA of Madison County has provided an average of 147 clients annually with energy-saving solutions like weather-stripping around doors, plastic over the windows, and filling gaps in the home to prevent drafts. This service saves clients on electric bills while also providing low-cost energy efficiency for their homes. Continuing their commitment to CASA of Madison County, Landers Mclarty Subaru hosted a awareness month to raise our communities understanding of our community garden. In partnership with their local Subaru Ambassadors a wrap up event was held at the end of July, where Subaru customers were invited to the showroom for a meet and greet with our garden staff. Events such as these along with the continued commitment over the years has raised our community's awareness of our organization and has allowed us to reach more individuals in need of our services.
---
Subaru creates partnerships for a lifetime - AL H
My name is Al Hampton and I've been working at Landers McClarty Subaru for 10 years. Here we sponsor CASA of Madison County. I am writing this to express my sincerest gratitude for the hand rails that you have provided us. Recently my wife and I adopted our granddaughter who was diagnosed with brain cancer in October 2019. Since her diagnosis, she has had a stroke which has affected her body in many ways causing disability and restricted mobility due to loss of muscle function. I knew she needed hand rails for our steps to prevent falls and to make her more comfortable going up and down our steps. I reached out to Carmelita Iglesias who is the Director of Marketing here at Subaru to see if that was something that CASA can assist with. Within an hour we received a response from a representative of CASA stating that they would love to help. Now my granddaughter is able to safely walk up and down the stairs. I can't help but reflect on how grateful my wife and I are to be a part of a company that creates such lasting and impactful relationships within our community. I have participated in many of the charitable acts taken by Landers Mclarty but this time I was on the receiving end of such a partnership. Thank you Casa of Madison County for providing accessibility for my granddaughter and Landers Mclarty Subaru for creating an environment both within their company and their community that brings access to services for those that need them. I am extremely proud to work for Landers Mclarty Subaru and to be able to represent Subaru, the brand and their commitment to the community, every day!
---
Subaru #fightshunger alongside local Soup Kitchen - Megan L
The Rose of Sharon Soup Kitchen can not express how thankful and blessed we are to be apart of the Landers McLarty Subaru family! We are tremendously grateful for the food drive hosted in our honor at the dealership! We prepare and serve nearly 180 hot meals each day to the homeless and under-served within our community. A hot meal is not just about meeting that basic need of nourishment. For us, a hot meal signifies that warm "home" feeling. Landers Mclarty Subaru along with their local Subaru ambassadors were able to collect and donate hundreds of needed items. Serving meals to our homeless community creates a continuous need, the donation drive was able to donate plastic flatware, napkins, canned foods, bulk quantity foods such as mashed potatoes/mac and cheese/pasta sauce/etc, personal hygiene products, plates, and various other food items. The love Landers Mclarty Subaru and the Subaru Ambassadors pour into this community is felt every day! Thank you Landers McLarty Subaru for your commitment to our mission!
---
A camper wish for Anna Reece comes true! - Lacey F
This past year has been a year of uncertainty for so many people, and it was no different for Make-A-Wish Alabama's wish kid, Anna Reece Reeves. Back in 2020 just a few days before Landers McLarty Subaru was set to throw an out of this world send-off celebration for Anna Reece as she was off to meet the mouse at Disney World, everything came to a screeching halt with Covid-19 as travel shut down completely. This meant a little girl who was set to leave on a trip was suddenly heartbroken. Landers McLarty Subaru immediately said they would stay by Anna Reece's side as she waited for her wish to become reality. As the year went on we saw that travel wishes were going to be put on hold for much longer than expected so Anna Reece decided she wanted to change her wish to something that she could make a lifetime of memories with, a camper. With the help of Bankston Motor Homes and Landers McLarty Subaru, Make-A-Wish Alabama went to work to try and make this wish come true! On June 21, 2021 Frank Williams along with her family members and others in the community surprised Anna Reece with her very own camper! It was a day of celebration and giggles as she bounced from one exciting part of the camper to the next claiming the top bunk bed as her very own sleeping spot! None of this would have been possible without the unwavering support of Frank Williams and Landers McLarty Subaru! Make-A-Wish Alabama is so thankful for this community partner and all they do to help the organization grant wishes.
---
Subaru's love knows no bounds! - Regina M
It is with great joy we say "Thank you" to Landers McLarty Subaru for the Share to Love- Hometown Charity Campaign. We were elated to be presented with a check for $10,903.28. Then, to make sure both charities involved received the same amount, our campaign was increased by Mr. Frank Williams generosity when he wrote a personal check for another $12,026.00 for a total of $22,929.28. Together, with your donation we can continue to meet our mission to address the needs of our scholars and families in distressed, high poverty neighborhoods. Lastly, as you can see, your contribution is very important to our most important people, the scholars and families we serve. Your support to our families means the world, and we really couldn't do it without you!
---