The 2022 Subaru Love Promise Customer and Community Commitment Award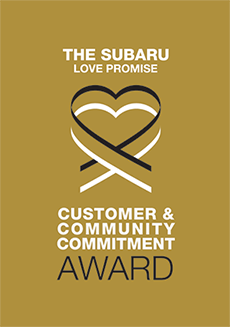 We've been nationally recognized for our dedication to our customers, our community, and the Subaru Love Promise.
We're honored to receive the 2022 Subaru Love Promise Customer and Community Commitment Award. This award nationally recognizes elite Subaru retailers who provide an exceptional customer experience at every interaction with Subaru. These retailers have also demonstrated an outstanding commitment to supporting passions and causes in their local communities in important areas such as the environment, community, health, education, and pets.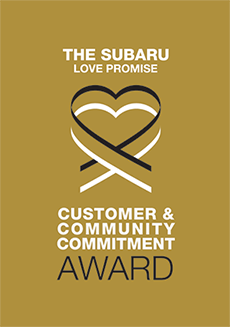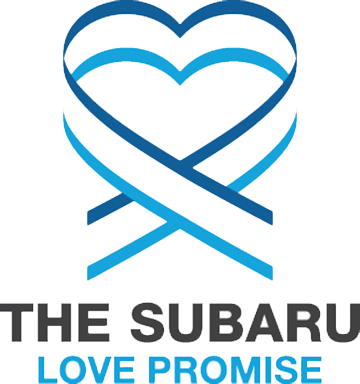 What is the Subaru Love Promise?
Subaru and our retailers believe in making the world a better place and the Subaru Love Promise is our vision of respecting all people. This is our commitment to show love and respect to our customers and to work to make a positive impact in the world.
How is Landers McLarty Subaru - Huntsville dedicated locally to the Love Promise?
How is Landers McLarty Subaru - Huntsville dedicated locally to the Love Promise? At Landers McLarty Subaru, we're dedicated to fulfilling a promise to love our community through a special program referred to as the Landers McLarty Subaru's Love Promise. Our various partnerships with local charities and nonprofit organizations reflect our commitment to keeping this promise. We are so very grateful for the opportunity, not only to be a part of our community but to serve in it as well. Our support takes the form of standing with local charities to facilitate donations, events, drives, all of which help shine a light on their organizations. We believe in being a positive force in the communities where we live and work, not just with donations, but with actions that set an example for others to follow. It is our goal to make our friends and neighbors aware that we are not just another car dealership but that we are a company that wants to establish a long-lasting partnership with the community.
Greater Huntsville Humane Society
Land Trust of North Alabama
Downtown Rescue Mission, Huntsville Police Department, National Children's Advocacy Center
Love Promise Stories from Landers McLarty Subaru - Huntsville
Subaru and Landers McLarty Subaru - Huntsville believe in making a positive impact on the communities in which we live and work. We uphold that belief through our Love Promise Community Commitment. Every month, we select inspiring stories from customers and partners from around our area who strive to support our collective commitment and feature them here
Subaru Feeds 100 Families! - Megan R
Landers McLarty Subaru teamed up with The Rose of Sharon Soup Kitchen last Saturday to provide our community with nutrition and love! Together, we went door to door, passing out food boxes to the low-income areas in our community! Our mission with this project was two-fold. We were able to spread awareness for our services to those who may not know about us! We were also able to reach individuals lacking transportation! The passion and love that the LMS staff had for this project was phenomenal!
---
Exceptional kindness as a wedding gift - Conor E
I recently moved to Huntsville to be with my fiance and we are leaving for our wedding In Charleston soon. I wanted to bring my Forester in for an oil change and general inspection before the road trip to make sure we limited the chances of any breakdowns on the way to the wedding. When I brought in my car and told my Service advisor Zach Brady about my wedding he surprised me with various gifts from the dealership and congratuated us on the wedding. I couldn't believe the amount of kindness that he and the Landers McLarty Subaru team showed to do this for me and my fiance. Not only this but Zach took the time to explain to me in depth the easiest way to handle changing the tags and plate on my car over to Alabama as I had to move from out of state and have never done the process myself. I know that I will be exclusively be using this location for service for the remainder of my car's lifetime and we are heavily considering buying my fiance's next car from Landers McLarty all because of Zach's amazing kindness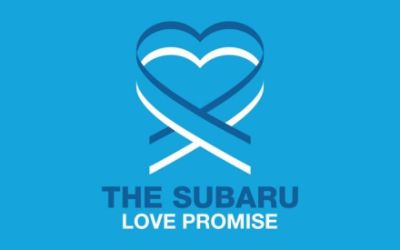 ---
Subaru Supports Local Loss Families - Lacey S
Ryker's Rainbow is a Huntsville-based non-profit committed to serving families who suffer pregnancy, newborn or infant loss. Partnered with 8 hospitals in North Alabama, we offer bereavement boxes filled with gifts of remembrance, provide Sibling Support, and offer burial or final arrangement assistance. Ryker's Rainbow was chosen as the 2021 Share the Love Event Hometown Charity by Lander's McLarty Subaru and just recently we were rewarded with a check from the event. For every Subaru sold $250 was awarded to a charity of choice by the purchaser and we were floored when we received a check for over $24,000! With this generous donation, Ryker's Rainbow will be able to assist over 250 local bereaved families in numerous ways, and most importantly, allow us the opportunity for our name to be out in the community as a resource for families who suffer such a great loss. Because of the support from Lander's McLarty Subaru's, countless doors have been opened for our organization from being connected to families during a time of need, to a spotlight shining on our organization as a local resource for many. We cannot thank Lander's McLarty enough for the support of not only our organization, but also for their support of local families. We will forever remember and be grateful for the generosity of Frank, his employees and dealership, and the Huntsville community.
---
Bringing Light to the Community with Subaru's Help - Lacey S
To be chosen by Landers McLarty Subaru as the 2021 Hometown Charity for Subaru's Share the Love Event has been an honor for our organization, Ryker's Rainbow. Ryker's Rainbow is a local non-profit started in memory of our son who passed away in June of 2020. Through our nonprofit, we support families who suffer pregnancy loss, or the loss of a newborn or infant by offering gifts of remembrance and meaningful keepsakes. Our assistance to families also extends to offering sibling support and financial help for final arrangements, a marker, or medical bills. Speaking out on the loss of a child comes with a number of challenges, but Landers McLarty Subaru gave us an incredible platform to not only increase awareness in our community, but to be a voice for all local bereaved families; an opportunity that does not arise often. In addition, it has allowed many to learn that an organization such as ours exists, and requests of our help for local bereaved families greatly increased since partnering with Landers McLarty for Share the Love. The loss community is a tight-knit group and the support within it is very strong. We have had a multitude of families reach out to us, in awe and so encouraged by the love that Landers McLarty is showing local bereaved families. We are forever thankful for Frank Williams, Carmelita Iglesias, and the entire team at Subaru. Every single person welcomed us, encouraged us in our "showroom takeover" and many even donated to our cause. The mission of Ryker's Rainbow is to "Be the Light". Landers McLarty Subaru has been just that, the light, for us and for so many families like ours. We currently have 7 hospital partners in which we support any family who suffers a loss while in their care, and also assist any family connected to us through the non-profit. With the help of Landers McLarty Subaru and the Share the Love Event, Ryker's Rainbow will be able to assist far more families in 2022 than we ever imagined possible and has room to grow into even more partner hospitals.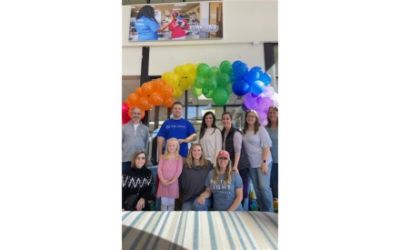 ---
Subaru Happy Tails - Rochelle S
After being pulled in late July from a hoarding situation, Ivy went straight into foster with one of the GHHS staff members. Her mange was one of the worst cases we have seen in a long time, and it took some time to put weight on her bones. On October 2, she was finally cleared to hit the town as a healthy, fully vaccinated pup – the Landers McLarty Subaru event was one stop she had to make! Although she was not adopted on-site her photos drew interest. Finally on Sunday, 10/17 she went home with her FURever family after a special meet and greet with her new human sister – who we have been told she is taking very good care of! Thank you Landers Mclarty Subaru for helping us create so many Happy Tails this month and over the years!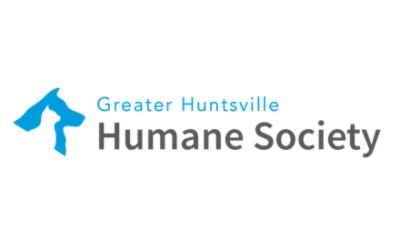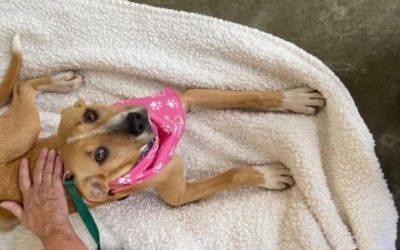 ---
Blankets of Hope - Donna J
Blankets are an integral part of life. We all need the warmth that blankets provide. The Downtown Rescue Mission is grateful to be the recipient of a donation of blankets for our residents and those who are in need in our community. A blanket not only provides warmth, but it can also provide hope to someone in need by providing the comfort of knowing that others care. Whatever the cause of becoming homeless, there is always a human element to be considered and the smallest deed performed can provide hope and make the greatest difference to someone that goes beyond the moment.Thank you Landers McLarty for sewing a seed of hope in the heart of broken souls!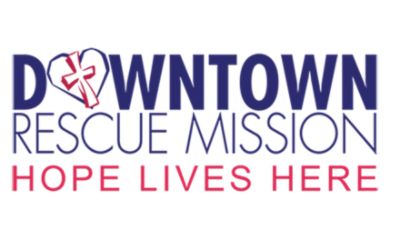 ---
Subaru Loves the Animals at GHHS - Rochelle S
Year over year, Landers McLarty Subaru has gone above and beyond for GHHS. During October "Adoptober" 2021, our partnered campaign "Giving S'more to GHHS" was supported more than we could have ever dreamed. "Adoptober" kicked off with an adoption event on-site at Landers McLarty Subaru featuring adoptable dogs and cats on October 2nd. Additionally, over the course of the month, three carloads of pet food and supplies were donated and delivered to the GHHS animals – how PAWSOME is that?! Moreover, Subaru's Pay it Forward program supported 52 GHHS animals finding their furever homes. THANK YOU, Landers McLarty Subaru, for your championing dedication to GHHS and animals in need!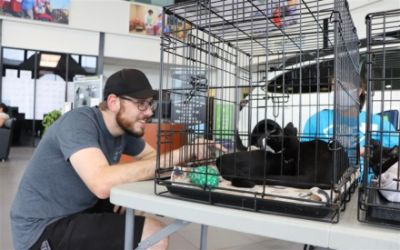 ---
Subaru continues its dedication to the Environment - Melanie M
Landers McLarty Subaru funded the installation of two new dog waste stations at Land Trust of North Alabama nature preserves. The stations, located at trailheads where visitors begin their hike, offer bags and a waste basket so pet owners have everything they need to clean up after pets and keep trails clean for everyone. By providing helpful amenities for visitors, we create convenient and welcoming spaces for the community to experience all the benefits of nature, including four-legged friends. Keeping all trails free of animal waste ensure both our environment and our trail guests are kept safe from any contaminants that could be spread through animal waste.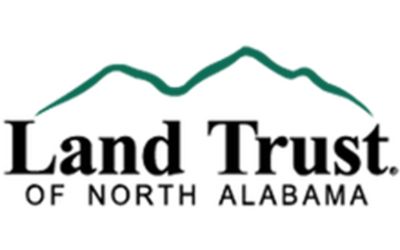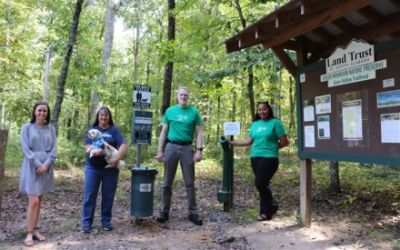 ---
Subaru supports youth sports - Bryan D
PALS (Partners for Athletes and Leaders in Schools) loves Landers McLarty Subaru and greatly appreciates their commitment to be the title sponsor of our inaugural golf tournament in September 2021! PALS is a local non-profit whose mission is to provide supplementary assistance to teams, organizations and students involved in Huntsville middle and high school sanctioned athletics and band. In our 11-year existence, we have been able to support 53 grant requests totaling nearly $100,000 in support of such programs like band, football, cheerleading, cross country, baseball, golf, softball, bowling, etc. in the city's school programs. These grants have reduced the burden of under-funded programs to purchase new uniforms, equipment, etc. Additionally, our grants have potentially lowered the fees associated with kids' participation in school band and athletics for families that might not otherwise be able to afford their children's participation. PALS' grants have impacted hundreds of student athletes and band participants and enhanced their experience in these programs. Our inaugural golf tournament netted a profit to PALS of nearly $12,000. This is more than twice our previous annual fundraiser and 100% of that will support our mission of kids' participation in band and athletics. Thank you, Landers McLarty Subaru, for your incredible generosity in supporting our inaugural event and giving back to the fine youth in our community!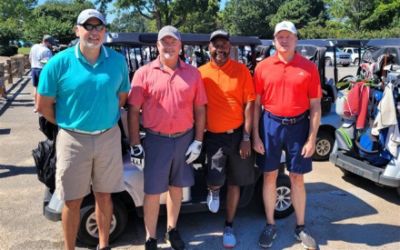 ---
Adopt a Classroom with Landers McClardy Subaru - Cheryl A
Martin Luther King, Jr. Elementary School Loves Landers McCLardy Subaru! I would like to personally THANK Landers McClardy Subaru for partnering with Adopt-a-Classroom and donating $3000 to our school. I received an email back in April of 2021 stating that MLK had been selected to receive this wonderful donation. Six teachers (ranging from Kindergarten to 5th grade) were selected to receive $500 each to purchase STEM items for their classrooms. They had 30 vendors that were available for them to "shop" and choose appropriate items for their individual grade level. Community partnership is extremely important. Having a strong connection with the community enhances economic growth. THANK YOU Landers McClardy Subaru for your partnership. We appreciate your generosity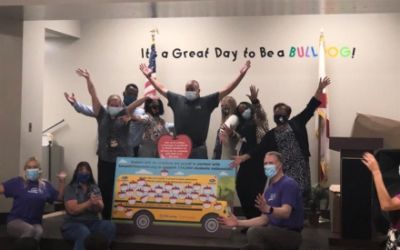 ---