4-Wheel Alignment $119.95
Use our online scheduling form so you can:
-
Instantly book
your appointment time
- Maintain your service work-order history
Your tires are a crucial part of your vehicle, and they can take a beating without you even knowing it. A simple visual inspection can tell you when the tread is wearing out or whether they are properly inflated, but only a professional diagnosis can detect other potential issues, and you need trained technicians to perform tire alignment and balancing.
At our tire center in Huntsville, Alabama, we can perform every type of tire diagnosis, repair your tires if necessary or supply you with a new set of tires at a great price. We serve Birmingham, Florence, Athens and Decatur drivers from our Huntsville, AL, location. We stock the most reliable brands, including Michelin, Continental, Dunlop, Goodyear and Bridgestone tires. Visit us for all your tire maintenance needs.
Here are some of the services and advantages of purchasing or inspecting your tires at
Landers McLarty Subaru
:
- Tire inspection and diagnosis
- Wheel alignments
- Tire rotation
- Tire balancing
- Extended hours
- Competitive prices on new tires
- Specials Available
Brake pads getting worn down? Not as responsive as when you purchased your car?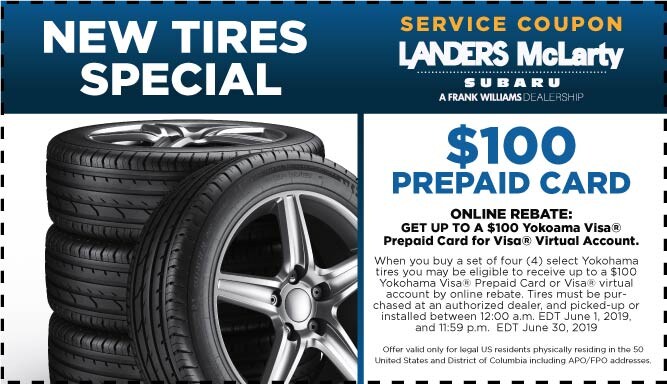 Eligible Yokohama Tires
$100 Visa Prepaid Card or Visa Virtual Account
$70 Visa Prepaid Card or Visa Virtual Account
To receive the prepaid card, you must follow a few simple steps to submit your redemption form:
1. Take a clear picture of your invoice.
2. Go to yokohamatirerebates.com (hyperlink: https://www.yokohamatirerebates.com/)
3. Fill out the online redemption form.
4. Upload the picture of your invoice.
5. Click Submit - and you're done!
You must submit your redemption online at yokohamatirerebates.com no later than July 31, 2019. Late submissions will not be accepted.